Elite Homes are a residential property developer specialising in transforming land into stylish, high quality residential apartments and HOUSES in pioneering new build schemes along the South coast of England.
Elite Homes produce creative, desirable and profitable solutions to a rapidly growing market. We have a number of interesting schemes in the pipeline that will complement our existing portfolio of mid-range family houses which will create new affordable zero or near zero carbon homes. Elite Homes understand that one size will not fit all. We conduct a detailed review of every project starting from the ground conditions all the way through to the finishes of the house to ensure we can produce the best designed homes for the most affordable price across the market.
SUSTAINABILITY / ESG
Elite Homes prides itself in being at forefront of Sustainable Building using products that are environmentally friendly and whose manufacturers follow the strict principles of ESG throughout their company. Environmental, Social and Corporate Governance ( ESG ) is about three key factors, Environmental concerns over climate change and sustainability, Social concerns relating to diversity, human rights along with consumer protection and Corporate concerns relating employee and management relations. Elite Homes are proud to sign up to these principles and carry them throughout our business.
QUALITY
Within our team, we analyse every design to ensure that we create the best use of space in every building so that each room flows freely from one into the next, thereby creating spaces and buildings that people want to, not have to, live in.
Safety
Our construction team has many years of experience in delivering high quality buildings on time and on budget, finished with the highest quality finishes, whilst meeting the most stringent health, safety and environmental requirements.
INTEGRITY
People are absolutely crucial to the Elite Homes way of working. Our team culture is founded on three pillars: vision, energy and control. We ensure that what we do is well planned, beautifully executed and delivers outstanding results for all of our stakeholders.
Elite Homes utilises offsite construction as it believes it is the most effective, sustainable and efficient method of housebuilding. It delivers on ensuring:
Cost and programme certainty, as final price and delivery date is fixed.
Quicker design and specification programme, and much shorter build period, mean that the same resources can handle twice as many projects.
Less risk of exposure to delays and cost overruns.
Less preliminaries, staff and finance costs.
We use the closed panel timber frame system, which offers the following advantages over traditional timber frame construction:
Speed of manufacture & construction
Convenient service void zone
Manufactured in a controlled environment
Reduced site waste
Enhanced Airtightness details, PSI and U-Values
Greatly improved energy efficiency
Click here to go to Elite Offsite where we manufacture all our own homes…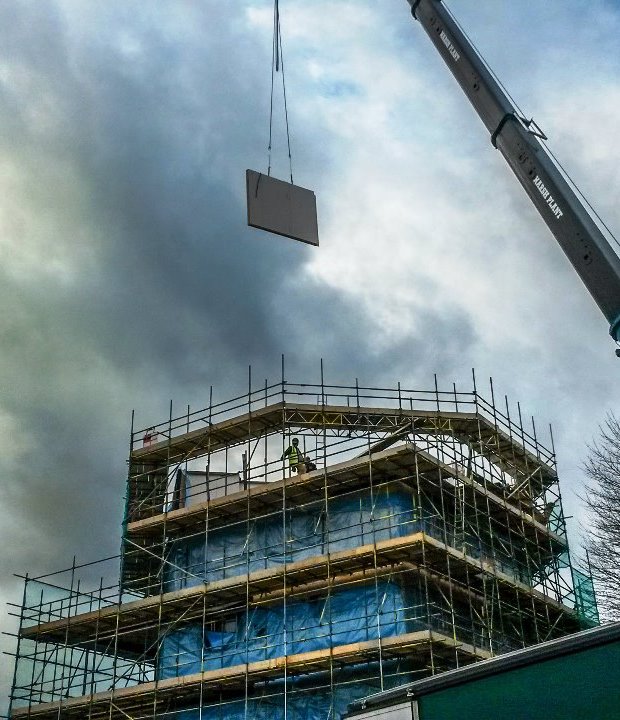 Benefits of Offsite Construction
Rapid Site Erection
Protection from Adverse Weather
Fewer Trade Interfaces
Fewer wet trades
Less –on-site damage
Simplified site management
Certified 30/60 min fire solutions
Design for manufacture approach
Utilisation of CAD & CAM Software technology
Factory controlled conditions
Precision engineering
Greater accuracy and efficiency
Fewer completion defects
3rd party Quality Assurance Accreditation
Responsible material sourcing
Chain of custody compliant
Minimal material waste
Recycling of waste products
High level of carbon sequestration
Fewer vehicle movements
3rd party environmental assurance accreditation
Reduction in manual handling
Warm dry well-lit comfortable factory conditions
Semi-automation reduces effects of vibration
WHAT NEXT FOR Elite Homes?
Our objective is to become a leading developer of residential schemes by focusing on affordable homes in good locations across the South of England. We will do this by:
Maintaining the company's focus on site identification and acquisition, cutting edge architecture and interior design, product development, innovative marketing and sales techniques, and robust cost control.
Identifying, through detailed market research, the location of our markets, the appropriate mix of uses within our schemes and the property requirements of our customers;
Detailed attention to before and after sales customer service.
Continuing to outsource professional services to highly skilled and effective teams in the architectural, engineering and project management sectors.
Increasing links with landowners with whom we can undertake joint venture projects.
Selecting key contractors and sub-contractors with whom we can work to deliver our projects on time, and crucially, to budget.
Generating above average returns for our investors and funding partners.
SPECIALITY
Producing Quality, affordable low energy homes
Development Area
Along the South Coast
Team
5 Dedicated Professionals
Location
Historic town of Arundel
Directors
Over 60 Years of Combined Experience
Secured Projects
Over £15-20m
We transform land into stylish, high quality residential apartments and homes